Welcome to Denmark, the picturesque backdrop for your dream wedding!
Hair & Makeup Artist – Cosmetologist
Your Danish Hair and Makuep Artist
No need to worry about language barriers or unfamiliar surroundings
Congratulations on your upcoming wedding in Denmark! As you prepare for this unforgettable chapter of your love story, let us be your guiding light to an effortlessly stunning look. Our dedicated stylist is here to enhance your beauty, making sure you shine with confidence and grace as you exchange vows in this enchanting destination.
Expert styling for your perfect day
Enhance your bridal beauty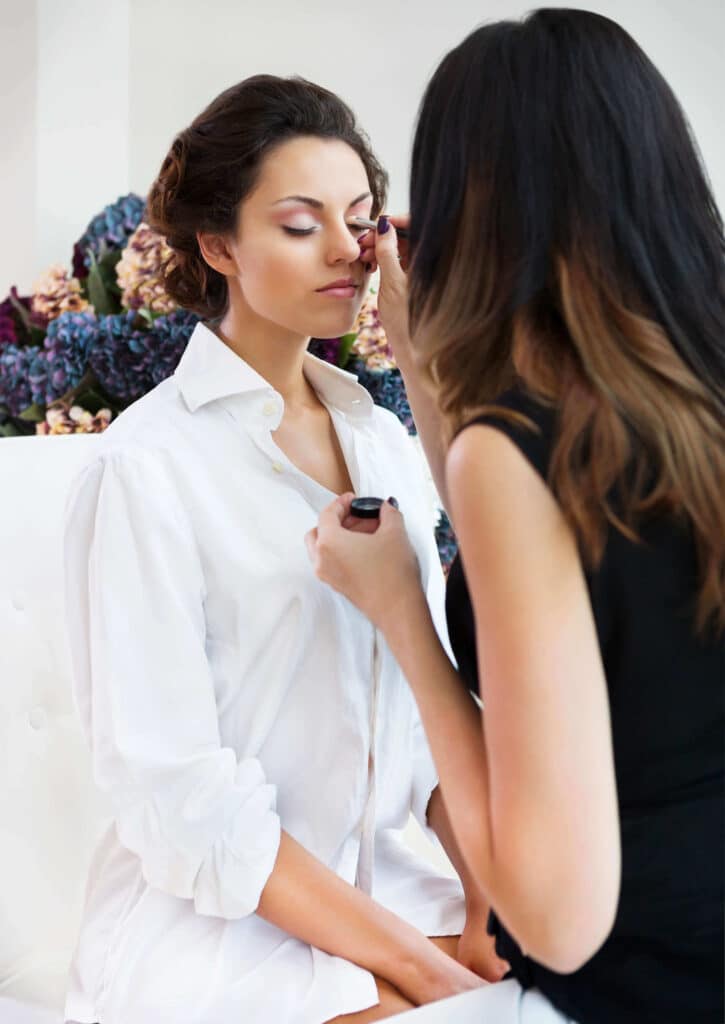 Welcome to Denmark, the picturesque backdrop for your dream wedding! As an experienced bridal stylist for over two decades, I am dedicated to making your special day truly extraordinary.
With a deep passion for transforming brides into stunning works of art, my expertise in hair and makeup ensures you will radiate elegance and beauty. I understand that your time is precious, and that's why I specialize in delivering exceptional results without the need for multiple trial sessions.
My creativity knows no bounds, and I take pride in swiftly understanding your desires and turning them into reality. Your wedding day is a whirlwind of emotions, and I am here to ensure you feel confident and enchanting every step of the way.
Being both a seasoned cosmetologist and a makeup aficionado, I possess a profound understanding of diverse skin types, ensuring your look is flawlessly tailored to perfection. From the soft glow of a natural bride to the bold allure of a glamorous look, I am adept at creating the ideal style that resonates with your unique beauty.
Your love story deserves nothing but the finest, and I am committed to crafting a hair and makeup experience that accentuates your natural charm and inner radiance. With my guidance, you will walk down the aisle with the confidence and grace that truly captures your essence.
Let's embark on this beautiful journey together. Contact me today to start the enchanting transformation towards your perfect wedding look.
Warmest wishes
IZANEL
Discover our work on Social Media
I curate the team according to your wedding requirements and the number of individuals requiring styling
Your wedding day and the visions you have for it are momentous. To accommodate this, our styling process takes just 2-2.5 hours with your dedicated stylist. With years of experience, I've refined the ability to bring your styling dreams to life efficiently.
Whether you prefer the convenience of our team coming to you or would like to visit my beauty salon, the choice is yours
Prices on Bridal Hair & Makeup and Bridesmaids
Brides Wedding Hair & Makeup
Your hair is styled according to your preferences and dreams, ensuring it remains resilient and holds up all day long. Our meticulous approach guarantees your hair can withstand any situation while staying impeccably beautiful. Additionally, our professional makeup application is designed to enhance your finest features and bring out your natural beauty.

Price in Euro 450,-
Driving Fee in Euro 75,-
Bridal Hair & Makeup + Glowing Skincare
In this bridal package, you receive both hair styling and makeup application. The added luxury in this package is the skincare treatment before the makeup. We ensure your skin is free from dead skin cells and incorporate luxurious products to rejuvenate it. When your skin is in optimal balance and refreshed, your makeup will also yield exceptional results and maintain its longevity..

Price in Euro 520,-
Driving fee in Euro 75,-
Bridesmaids
Your bridesmaids are an integral part of your wedding vision. As such, you have the option to book our services to style them, whether it's for hair, makeup, or both. My team and I are committed to delivering professional styling to ensure they look their best.

Prices in Euro
Hairstyling/Hairupdo price 200,-
Makeuo price 200,-
Both Hair & Makeup 250,-
Bridal Hairstyling or Bridal Makeup
If you, as a bride, prefer to avail only specific components of our services

Price in Euro
Hairstyling/Hairupdo 260,-
Makeup kr. 200,-
Driving Fee 75,-
Frequently Asked Questions
Let's create the perfect and unique look for you.
Welcome to Denmark for your wedding, celebrations, conferences, or anniversary! We're here to craft the perfect look, setting the stage for your best moments.